About Diana Cox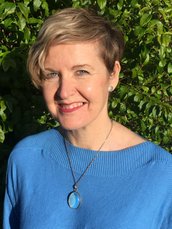 I love to see my clients and students blossom and grow through the beauty of Reiki
I have been involved with energy healing for over twenty years, having attended my first course in 1994. For a long time I felt a deep split between the intuitive part of me that felt energy, knowing it was my path, and the sceptical part of me that doubted what I knew to be true because I couldn't explain it.
Sixteen years ago, Reiki kept popping up in my life synchronistically and I picked up a leaflet in a café and booked my first treatment. Two days later I was on my Reiki I course and two months later, Reiki II, both with Zoe Martlew. I was amazed at how powerful and accessible Reiki is, and how Reiki can meet us at our deepest level. I find it particularly wonderful that someone can walk in to a Reiki I course with no prior knowledge or noticeable 'gifts' and leave at the end of the day, able to give themselves, their friends, and their family Reiki healing and to have these tools for life.
The founder of Reiki, Mikao Usui, described it as 'The Secret Art of Inviting Happiness', and since that Reiki I course, Reiki has brought very many positive changes in my life, physically, emotionally and spiritually. In 2008 I completed my Master/Teacher Degree with Sandra Ditta Herrmann. Through giving healing and teaching Reiki courses, I am delighted and honoured to be able to share the benefits of Reiki with others as I can see first-hand how Reiki can help people transform their loves and find peace and healing.
I have always been interested in working with people in an empowering and therapeutic way. I completed the Foundation Course in Counselling Skills at Spectrum, London, in 1992 and their One Year Psychotherapy course in 1993, and I bring the communication skills, self-awareness, and insight developed through those courses to my work as a Reiki practitioner and teacher. I have a teaching qualification and have taught ceramics and life skills in addition to Reiki. I completed my Karuna Reiki® Master/Teacher Degree in 2010 with Zoe Martlew, and Reiki/Seichem Master Degree in 2014 with Maxine Fone. In April 2016, I completed my Holy Fire Reiki Master/Teacher Degree with Zoe Martlew. In September 2016, I completed Holy Fire II Karuna Reiki® Master Teacher. I received the upgrade to Holy Fire® III in January 2019, which is now more powerful than ever. In April 2021, I studied with William Lee Rand, completing the Holy Fire III Karuna Reiki® Masters course again to experience the teachings from the man who founded the Karuna Reiki® healing system.
I am a Master Teacher Member of the UK Reiki Federation and fully insured. My Reiki lineage comes from the founder, Mikao Usui and through William Lee Rand and I practise a Usui/Holy Fire® style of Reiki which is a combination of Japanese and Western methods. The Holy Fire® is a new form of Reiki which was introduced by William Lee Rand of the International Centre for Reiki Training. Please get in touch if you would like full details of my Reiki lineage or more information about Holy Fire® Reiki
I also run courses regularly at Bellenden Therapies in South East London www.reikisouthlondon.co.uk
I live in Ramsgate, five minutes' walk from the sea and am also a certified Emotional Freedom Technique (EFT) practitoner and Matrix Reimprinting Practitioner www.healingheartsandminds.co.uk. I'm a yoga enthusiast and have recently trained as a yoga teacher. I have a daughter, Lily, who is a young adult and a cat called Willow, both of whom love Reiki.