A treatment will usually last about an hour, although allow a little extra time if it is your first session. Reiki can also be sent very effectively at a distance and is very powerful if you are unable to be here in person.
Diana Cox practices in Ramsgate in Thanet, Kent, in a peaceful, relaxing environment close to Vale Square and five minutes from the sea. You will remain fully clothed, lying on a treatment couch. Diana will work with her hands either on or slightly above the body, usually starting the treatment at your head and shoulders. Experience varies from session to session as the energy will be drawn to wherever it is most needed, and different people will have different experiences.
Typically, clients will feel deeply relaxed during the treatment and may drift off to sleep. You may feel heat or a tingling sensation and if the healing is at an emotional level, you may feel a sense of release as the source of the problem is shifted. The energy will continue to move for around 24 hours after the treatment and you may have mild symptoms associated with detoxifying. It is advisable to drink plenty of water to aid this process. Clients will usually feel peaceful and calm after a treatment.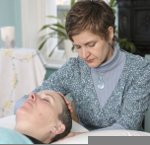 A single Reiki session can make a difference; however a course of regular treatments may be more effective and a treatment plan will be discussed with you. These may be weekly, fortnightly or less often depending on your individual needs. This will always be subject to your own preferences, and can be changed at any time according to progress.
Please note that Reiki does not take the place of conventional medicine and it is advisable to always consult a GP for an acute or infectious condition, and problems of urgent concern.
Session Cost, Ramsgate: £50 for one hour
Distant Healing £50 for an hour via Zoom, £30 for half an hour (no video)